EXO® AP HOOK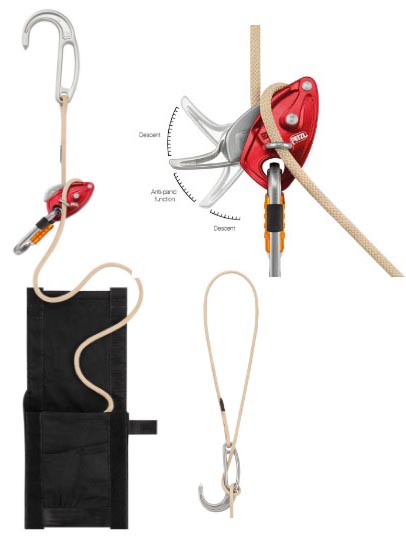 Personal escape system with anchor hook adapted for locations where the possibility of finding an anchor point is uncertain. EXO AP HOOK has a self-braking system with anti-panic function for quickly moving horizontally, climbing through a window and controlling and stopping a descent. If the user pulls too hard on the handle, the anti-panic function brakes and stops the descent automatically. EXO AP HOOK also includes a rope that resists wear and high temperatures, an Am'D connector with CAPTIV positioning bar, as well as a bag for transporting and attaching the system directly to the harness. Other rope lengths available by special order.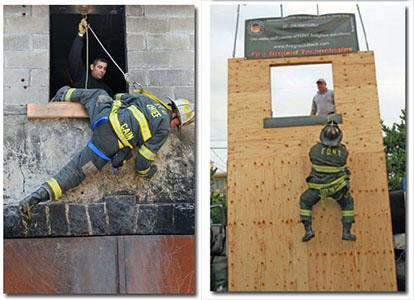 ---
GEMTOR 541 & 546 NYC SERIES CLASS II FIRE SERVICE HARNESS

Features & Benefits:
Fast and Easy Donning

Front Leg Strap Adjusters

Can be attached to bunker pants using loops available from most turn-out gear manufacturers.

Color coded design for easy donning

Fixed length front, Handle always the same length regardless of adjustment.

3-Stage locking Pompier hook with 2" side opening gate available in Aluminum or Steel (NFPA General Use Carabiner classified by UL)

Extremely lightweight, weighs only 2.8 lbs! (with aluminum Pompier hook).

Forged alloy steel escape system attachment D-ring.

Sturdy, lightweight nylon webbing 1 ¾" wide stitched with high tenacity nylon thread.

Easy waist belt operation, just engage steel snaphook and D-ring.

Available with right side or left side (FDNY style) opening, left side shown. (click here for ordering help)

Unique design lowers the body's center of gravity and helps reduce the possibility of toppling.

Can be attached to bunker pants.

Pompier hook stores at center front position.
Fire Ground Tech is a Preferred trainer on the use of the Gemtor harness. Contact us for details and pricing
Purchase your Petzl EXO and your Gemtor Harness through Fire Ground Tech.
Model #

Opening Side

Hook Material

Fits Waist

Left

Right

Alum

Steel

541NYCL-0A / 546NYCL-0A

30" - 44"

541NYCL-2A

/ 546NYCL-2A

36" - 50"

541NYCL-4A

/ 546NYCL-4A

44" - 56"

541NYCR-0A

/ 546NYCR-0A

30" - 44"

541NYCR-2A /

546NYCR-2A

36" - 50"

541NYCR-4A

/

546NYCR-4A

44" - 56"

5461NYCL-0S

/

546NYCL-0S

30" - 44"

541NYCL-2S

/

546NYCL-2S

36" - 50"

541NYCL-4S

/

546NYCL-4S

44" - 56"

541NYCR-0S

/

546NYCR-0S

30" - 44"

541NYCR-2S

/

546NYCR-2S

36" - 50"

541NYCR-4S

/

546NYCR-4S

44" - 56"
---
RevealPRO | Seek Thermal Imager

Affordable, High-Performance
Handheld Thermal Imaging
RevealPRO is our most advanced handheld thermal imaging camera yet. Highly durable and easy to use, RevealPRO combines a high-performance 320 x 240 thermal sensor with intuitive software to help you work smarter. And, when you need it, a powerful 300-lumen LED light is available at the touch of a button. Offering adjustable thermal level, span, and emissivity settings, RevealPRO breaks new barriers by offering high-resolution thermal imaging and software capabilities
MAPP PRICE: $699
Download RevealPRO Specs
Download User Manual
Top Tips for Commercial Inspection
Key Features
Thermal Level and Span – Easily set and lock a temperature range to display the maximum thermal information of any object or scene with a set point and range.
Emissivity Control – Calibrate for emissivity through easy, pre-defined settings. Compensate for various surface materials, ensuring accurate readings and reporting.
Nine Standard and High Contrast Color Palettes – From standard grayscale to spectra high contrast, RevealPRO provides the visual capabilities necessary to help users easily examine and understand thermal imagery during inspection.
Full-Frame Mapping of Temperature Distribution – Displays all temperature data for maximum clarity and resolution.
Multiple User Modes – Normal, Spot temperature and Level & Span included.
Ruggedized Display – 2.4" color display featuring Corning® Gorilla® Glass protection.
4x Digital Zoom - Wide, 32° field of view with 4x digital zoom capability lets you easily scan a large area and identify potential hazards in seconds.